What Are Air®Nasal Inserts?
AIR® nasal inserts are adhesive-free, drug-free, and latex-free miracles for your nose that discreetly support you, your needs and your lifestyle
Airware Labs delivers break through breathing technology designed to allow consumers to take advantage of their powerful nasal system for optimal health. A globally patented FDA exempt Class 1 medical device. AIR® is a discreet, disposable, personal nasal insert made from soft, medical-grade material. All natural, instant relief.
• AIR BREATHE™ its comfortably and discreetly inside the nose, opening the nasal valve, and increasing airflow up to 60%. AIR BREATHE™ does not have any infused essential oils.
• AIR ESSENTIALS™ (Decongest, Sleep/Snore, Headache and Nausea) and AIR SPORT™ are infused with therapeutic essential oils specifically formulated to provide drug-free relief to common ailments, increase airflow, and increase athletic performance.
• AIR FILTERS™ (Allergy and Travel) greatly reduce the intake of allergens and other airborne contaminants, such as pollution and pathogens, through our 3M filters. Without reducing airflow it's great for airplanes, hospitals, or being around pets.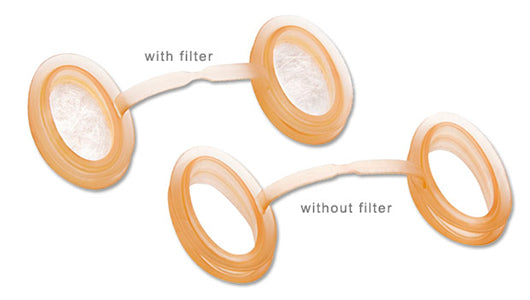 FREQUENTLY ASKED QUESTIONS
1. How do you wear AIR?
Wash hands. Remove AIR from individual pouch and holder. Insert one oval section into each nostril with the connecting band facing downward. (Do not use if connecting band is broken).
2. How should AIR fit?
AIR should fit comfortably inside the nose (adjust angle in either direction up to 45 degrees for optimal comfort and fit).
3. How do you remove AIR?
AIR is easy to remove. Simply pull gently on the connecting band and discard. Designed for one-time use up to 12 hours. For best results, we recommend blowing your nose prior to inserting the AIR device.
4. Can I use AIR more than once?
No, sorry. AIR is designed for one-time use up to 12 hours.
5. For how long can I wear AIR?
AIR works great for up to 12 hours of use.
6. Is it one size fits all?
Nope! Many AIR products come in sizes Small, Medium and Large. Choose which fits you best when you order from the airwarelabs.com store.
7. Where can I buy AirWare products?
All products can be purchased directly from the airwarelabs.com store. We can also be found at Walgreens!
8. Why should I wear AIR?
AIR provides instant, drug-free relief to many ailments including congestion, snoring, headaches, allergies and more. AIR increases your airflow, helping to improve your health, athletic performance and so much more.
9. What is the difference between AIR and nasal strips?
AIR increases airflow 38% more than nasal strips. Plus, nobody will ever know you're wearing the comfortable, discreet nasal filter.
10. What are the benefits of using AIR versus medications?
All the relief, none of the side effects!
Our Story
Inspired by a contractors will to find a safer, less intrusive, and more discreet way to stay healthy on the job, AirWare Labs was born.
Our founder knew there had to be a better way to breathe safely on the job site. The filtration masks used were cumbersome, intrusive, and hard to breathe out of. He sought out to provide a discreet and effective solution to filter out pollution, allergens, pathogens, and construction dust.
AirWare Labs began as a solution by a contractor for contractors, but has grown to be so much more. During testing and product development, there was a discovery of increased oxygen flow and the reduction and/or elimination of snoring with the non-filtered device.
In December of 2012, CEO Jeffrey Rassás, joined AirWare Labs and the company took off from there. Now a publicly traded company, our products can be found in Walgreens, many grocers, regional drug stores and our revamped and informational website. In the light of the major pollution problems in China, AirWare Labs will be executing a major launch in China Q4 2017.
AirWare Labs is excited to have many new products on the horizon. This includes: Continuous Positive Airway Pressure (CPAP) Nasal System for Sleep Apnea, an Insufflation Nasal Delivery Medication Cartridge and Nasal Cannula Inserts. Also due to be released in 2015 is a new line of Skin Treatment and Dermal Shield Products for wrinkles, acne and scarring.
Through all of this, AirWare's focus is and has always been to improve people's daily lives. We have become a leader in the industry we love, and continue to strive to be better every day.
AirWare: Breathe the difference.